Eddie and Fred:
We're All Heroes
The Eddie and Fred Book is a delightful and heartwarming children's book about Eddie the soldier who is remembered for his contagious smile and Fred the loveable dog. The book is beautifully illustrated and features charming and engaging storytelling that will capture the imaginations of young readers.
Fred is a lovable dog who dreams about being a superhero. His best friend Eddie takes him on a journey through town to show him that being a hero is about more than just wearing a mask and a cape and showing off your super strength. True strength comes from the qualities you have in your heart. Kindness, courage, and friendship will all help you discover your hero within.
The Eddie and Fred Book is a wonderful addition to any child's library and is sure to become a favorite bedtime story for years to come. With its playful illustrations, engaging storyline, and heartwarming message, the book is a perfect way to inspire children to be kind, adventurous, and compassionate.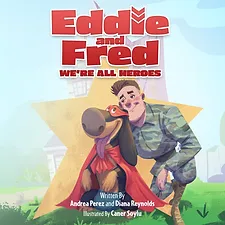 "Super powers come from deep within, not measured by race or your color of skin. A hero doesn't need to be strong and tall; they can be any shape, big or small."