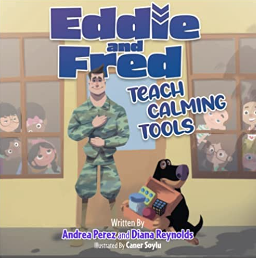 Eddie and Fred
Teach Calming Tools
Do you ever have big feelings and don't know what to do or how to handle them? Eddie and Fred visit school to talk about emotions and the power of calming tools.
Eddie and Fred:
We're All Heroes
Fred is a lovable dog who dreams about being a superhero. His best friend Eddie takes him on a journey through town to show him that being a hero is about more than just wearing a mask and a cape and showing off your super strength. True strength comes from the qualities you have in your heart. Kindness, courage and friendship will all help you discover your hero within.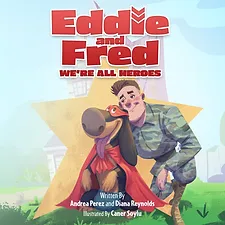 Eddie and Fred are real life heroes who jump off the page and into your heart as they illustrate the ways children can be heroes themselves through simple acts of kindness and friendship.
Andrea Janoe, director of implementation
MCEC (military child education coalition )
Eddie and Fred is a touching story that reminds us all that you don't have to wear a cape to be a superhero. The loveable characters in this story remind us all that it is the everyday acts of kindness that make someone a hero. It is the story all of our kids need to hear in today's day and age!
Dr. Anna Bohn, Ed.D
Principal Pathfinder Elementary
Eddie and Fred has quickly become a family favorite in my household. Highly recommended for kids of all ages and early education teachers. Teachers, be sure to check out the free downloadable activities from Eddie and Free and make them a part of your teaching experience. I used them in my classroom and it was an absolute hit! I was honored to know Eddie personally and saw the true hero that he was. This book continues to live on his legacy!
Matt
5.0 out of 5 stars
LOVED LOVED LOVED this book. Just what the world needs! Kindness, love, and respect! There's a superhero in all of us. Will definitely be using this book in my social emotional lessons with my students.
Marina Gomez
5.0 out of 5 stars
This is a beautiful children's book that is truly written from the heart. The rhymes and storytelling make it a book for multiple age groups, and the themes within the story make it a children's book that can be used and taught across grade levels. As a teacher, this is an excellent character education book. As a lover of children's books, this is beautifully written and designed. I cannot wait for more books to come out! A true beauty of a story!!!
Jaclyn
5.0 out of 5 stars
This is a phenomenal children's book about a real life hero and his best buddy, Fred - his dog. It teaches children that ANYONE can be a super hero by simply being a good person! At the end of the book my son said to me "I guess I'm a super hero then too! Because I'm smart, brave, and strong!" Every kid needs a copy of this book!!! This book is amazing and it is one of my sons top bedtime book choices!!
Frank
5.0 out of 5 stars
This book has a beautiful message wrapped into an entertaining story that keeps my kids interested from start to finish. No matter how many times we read it, they find something new that excited them on the pages of the book. Eddie and Fred are the perfect role models for our kids. Can't go wrong reaching for this book every time they ask to read a book!
Amazon Customer
5.0 out of 5 stars
A wonderful story that pulls at your heart strings. Teaching every child that their truest (and bravest) potential lies within themselves is such a valuable lesson. This book is absolutely wonderful. My children and I both love it! We plan to read again and again. If you're on the fence about purchasing, buy it! You won't regret it!
Cat Frias
5.0 out of 5 stars